Hotels and restaurants in the Tuscan Apennine - Emilian area.
A place dear to mountain enthusiasts, motorcyclists, cyclists, hikers, trekkers and pilgrims.
You are on the website of the Hotel - Restaurants in the Tuscan-Emilian Apennines. Territory which includes the upper Garfagnana in the province of Lucca with Piandelagotti, Frassinoro and other municipalities in the province of Modena. Along the Strada Statale 324 of the Passo delle Radici which connects Tuscany with Emilia Romagna. Over 6 km of cross-country ski tracks, snowshoeing and regenerating walks on the snow. Snowshoe hire at Passo delle Radici - San Pellegrino in Alpe - Piandelagotti - Frassinoro.

Hospitality for holidays, weekends, stop with business or pleasure overnight, in case you were on the way or in any case passing through. Hotels suitable for motorcyclists in transit, with the possibility of dinner and room and breakfast at moderate prices. Bicycles and motorcycles sheltered for the night! The small hotels have various rooms with bathroom, double, triple and quadruple rooms. Large recreational areas, including, restaurant, TV room and rooms for hikers - ski and trekking enthusiasts.

Each refuge or hotel in the area also has a restaurant service which, according to customers, is characterized by a simple and tasty menu, largely km.0 with recipes from the best Tuscan and Emilian tradition. Type of cuisine famously among the best in Italy, characterized by the wide use of typical local products with a protected brand (PGI), including Otto File Turkish wheat - here called: formenton, yellow and red for fabulous polenta, excellent spelled, chestnut flour , vegetables, legumes, mountain herbs, fruits of the undergrowth, honey, quality red and white meats from small ecological and sustainable farms. Cured meats and sausages at km.0 from local artisan producers and a good last, game and phenomenal porcini mushrooms!

Available for mountain and cross-country skiing enthusiasts, over 8 km of fabulous FISI-approved slopes.
you can rent in the area: snowshoes, poles, heated boots and skis.

The Passo delle Radici is the highest inhabited pass in the Apennines, 1,525 meters above sea level!
Definitely suggestive landscape, where nature is luxuriant, at times wild, able to give strong emotions for those who love the mountains and the snow. At the same time tranquility and relaxation for holidays or excursions not only in summer but throughout the year.

We are only 20/25 minutes by car from Castelnuovo di Garfagnana, a lively medieval town, capital of the small and green region, full of beautiful naturalistic and historical-cultural destinations, an extreme strip of land in Tuscany.

A stone's throw from the Passo delle Radici: San Pellegrino in Alpe with its Sanctuary, a destination for pilgrims and walkers from all over the world as well as the Ethnographic Museum of Rural Life. Ideal panoramic place from where it dominates up to the Apuan Alps, just over an hour and a half from the sea in Versilia. In San Pellegrino in Alpe there are free or guided routes for those who love walking, more or less demanding trekking or mountain biking. The area of ​​the Tuscan-Emilian Apennines, Passo delle Radici - San Pellegrino in Alpe, an area in the Upper Garfagnana, awaits you!
---
Hotels - Restaurants upper Garfagnana and district Tuscan-Emilian Apennines
Passo Delle Radici - San Pellegrino In Alpe - Frassinoro
Tourist Info:
info@garfagnanaturistica.com
Cell. 347 8355243, also WhatsApp.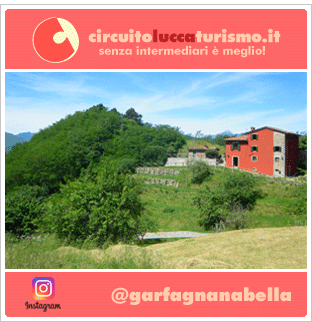 Pubblimedia SEO web agency
MyCLT co-working team
CircuitoLuccaTurismo.it